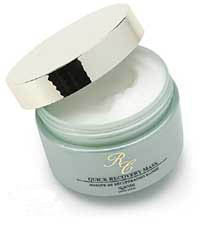 Quick Recovery Mask
Dual-phase exfoliation:

Beta hydroxy acid (Sodium Salicylate) gently softens and helps exfoliate dead skin cells. Smooth polishing beads helps slough off these dead skin cells and remove impurities that can clog pores. This exfoliation allows clearer, smoother, younger-looking complexion to emerge.

Calming and moisturizing:

Extracted from the root of the licorice plant, Stearyl Glycyrrhetinate helps keep moisture in the horny layer. It also helps to calm and soothe inflammation.

Cooling and refreshing sensation:

The aroma of Eucalyptus Globulus Leaf Oil and Menthol provides a cooling sensation, while a light, refreshing fragrance invigorates and relieves stress.

Allergy tested:

No mineral oil. No artificial colorants.